Welcome to a new month! Prepare yourself to hear (and perhaps initiate yourself) random small talk around the office of "Wow, can you believe it's March already?". Lots happening this month, so on to the content!
Events
A new month of course means another #SKNPChat – this month, hosted by yours truly on the topic of evaluation. For those questions you've had about program evaluation but were afraid to ask your funder about, now's your chance. Join us this Thursday at 11am Saskatchewan time!
To recognize the upcoming International Women's Day, International Women of Saskatoon (IWS) is hosting an event on Friday, March 6, at the Hilton Garden Inn. Running from 9:30 to noon, the event focuses on women as change agents and will feature two panel discussion, one on women in politics and the other on the workplace. Check the link above for further details and RSVP info.
Also this Friday, KPMG and the United Way of Saskatoon and Area are hosting a panel discussion for local non-profits on the topic of community engagement and sustainability. The discussion starts at 3:30 and takes place at the Sheraton Cavalier's "Top of the Inn" ballroom.
Leadership Saskatoon is hosting a Sandbox Lunch and Learn on March 18. Alleson Mason, from the Saskatchewan Open Doors Society, will be presenting on "Intercultural Communication & Cultural Diversity in Saskatoon". More details including location and RSVP information available here.
Grants
Applications for the Community Initiatives Fund's Community Grant and Community Places and Spaces programs are both due April 1. These funds are open to all Saskatchewan nonprofits (charitable status not required): unincorporated groups can apply if endorsed by an eligible organization (nonprofit, municipality, health region, school, school division) that will handle the funds on behalf of the applicant.
SaskCulture is providing funding assistance for organizations participating in Culture Days (September 25-27 this year). Registered Saskatchewan non-profits with a cultural mandate can apply individually for event funding or as a group (minimum three organizations) to host a Cultural Hub. Due date is April 15.
New @Strong Roots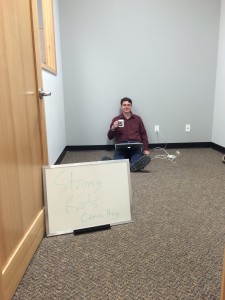 Two quick pieces of Strong Roots news. First, it turns out my announcement earlier this year about moving into an office was slightly premature: good news, things have worked out and I am now the proud lessee of suite 213 at the Two Twenty! It'll be a few days before I'm moved in fully and settled (as you can see in the pic, I'm going for the whole lean startup look1, but feel free to drop by and say hi.
Second, I've been playing around with a bit of a website redesign, featuring a new logo – check out the teaser! Besides having a fresher look, the new site will be reorganized to highlight the core work I do with for-impact organizations.
How are you holding up into the third month of 2015? Share below, drop me a line on Twitter as practice for Thursday's tweet chat, or send an email!
Thanks to my new neighbour Joanne from the Saskatchewan Waste Reduction Council for lending me a desk for today! ↩