Shorts have been replaced by jackets, there's a chill in the air, and leaves are starting to change – fall is definitely here in Saskatoon!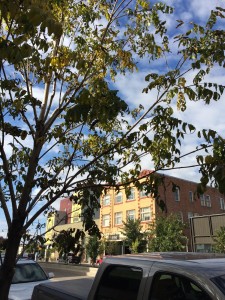 Rather than lament the end of summer (and the short time before we'll be talking about the frozen white stuff hitting the ground!), I would like take a minute to look back with gratitude. Overall, it was a great summer, balanced between work and relaxation, travel and time around Saskatoon, looking back and looking forward. I had the opportunity to meet up with friends and colleagues in Vancouver, convened my advisory group for the first time, and created a strategic document to help guide my work over the next 12 months. Most importantly, I was able to spend some timing in reading and reflecting on what exactly is the core or heart of my work: what is the change that I want to see?
I'm really excited about the months to come, with some awesome projects starting up, the American Evaluation Association's conference in Chicago to prepare for, and the opportunity to grow what Strong Roots can be – look for more on that in the weeks and months to come!
Over to you – how was your summer? What's got you excited for the fall? Comment below or through Twitter!