As hinted at earlier this month, one area I would like to (re-)start on this website is regular news updates. While Saskatoon can often feel like a small town, especially in the non-profit sector, it has grown to the point where we have many interesting events happening – and more importantly, we can't just rely on word of mouth or "being in the know" to be aware of all of them! And of course, there's a whole sea of online events that can be useful where you are (and which conveniently don't require you to leave your home or office when it's -35 out!).
So, I'm trying the regular news format again to help provide a coherent signal amidst the noise for Saskatoon-based nonprofits. It'll be a weekly update on Tuesdays (to start) and include both Saskatoon-specific items and online events, with a focus on Strong Roots Consulting's strengths – namely, community-based research, strategic planning, and program evaluation.
This week we have a couple of last minute events in town combined with a good range of evaluation-related online learning opportunities – so if you have professional development funds to be used up before fiscal year end, make sure to check them out! And finally, some good news from CRA (how often can you say that?) for organizations with charitable status who also engage in advocacy or public education work.
Saskatoon events
Tomorrow (January 30) Erin Ryan-Walsh of William Joseph is hosting a free workshop on Marketing for Nonprofits. Seating is limited and registration is required – they have an earlier session that has already filled up, so if you're interested don't delay in signing up!
The Saskatchewan chapter of the Canadian Evaluation Society (CES-SK) is holding a meet and great tomorrow evening (January 30) at the Thirsty Scholar. Open to anyone who is interested in evaluation!
Finally, next Thursday, February 7, the Saskatoon Poverty Reduction Partnership is publicly releasing 12 Bold Ideas to Eliminate Poverty in Saskatoon at Station 20 West. Full disclosure: I have participated in some of the discussions and planning work around this document, and I'm glad to see it go forward! See poster for more details.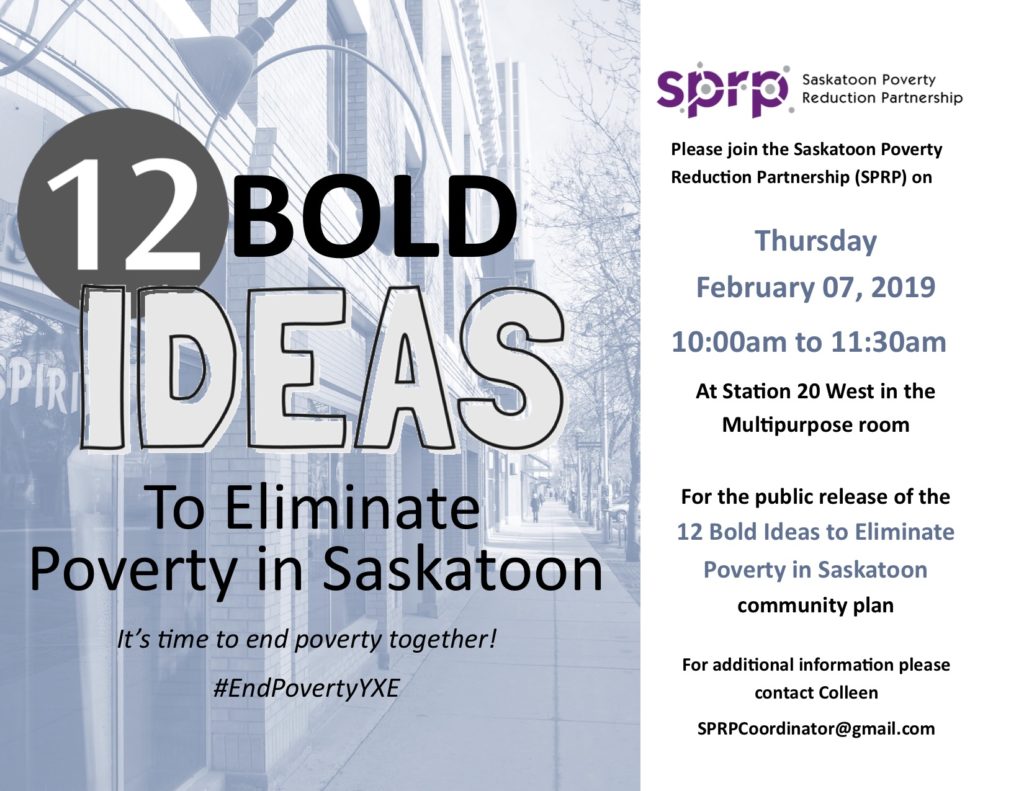 Online events
CES-SK will be offering the Essential Skills Series for learning the basics about program evaluation through an online format starting February 4.
Another online evaluation-related course, the Art of Evaluating in Complexity, begins February 5 and runs for the four Tuesdays in that month. Full disclosure: Chris Corrigan was a recent guest on Eval Cafe, and Carolyn Camman (co-host on the podcast) is one of the guest presenters for the course.
Later in February, SFU is hosting a free webinar on their Evaluation Certificate program (which includes past Eval Cafe guest Kim van der Woerd as an instructor!).
Kylie Hutchison (another Eval Cafe alum!) will be leading a webinar on February 26 on hosting data parties.
News of the Week
I often joke that I'm not a lawyer and I don't even play one on TV, but here's some welcome news from folks who are in fact lawyers: CRA Releases Draft Guidance on New Rules Permitting Charities to Engage in 'Public Policy Dialogue and Development Activities' (hat tip to the Centre for Social Innovation's newsletter). From a brief non-lawyerly read, it seems that CRA is more explicitly allowing activities that were formerly in a grey zone, such as research, representations on public policy, and public mobilization around issues that are related to the charity's stated charitable purpose. Still prohibited are activities that "directly or indirectly support or oppose a political party or candidate", including transferring resources to a third party for that purpose. If your charity does any type of work in this area or is considering doing so, it would be worthwhile to read through the above link and consider consulting with legal professionals to ensure your policies and practices are on-side.